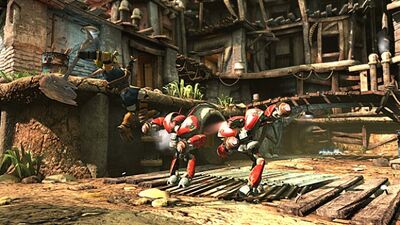 The Precursor Hammer is Jak's weapon in Playstation Move Heroes and is used in the Melee challenges.
Appearance
Edit
The Precursor Hammer is a large hammer made out of precurian metal.
Capabilities
Edit
Not only does the precursor hammer have the ability to be swung at an enemy with enough velocity to send an enemy across a stage, but Jak can channel dark eco through the hammer giving it a purple glow and an amazing addition of force to the already powerful hammer.
-Line Em Up: Destroy 3 enemies with one melee strike.

Unlike Sly's Cane and Ratchet's Omni-wrench, Jak's Precursor Hammer did not appear in the Jak and Daxter Series, therefore not being a returning iconic or signature weapon of his. Additionally, it seems to have been inspired from the Gun-staff featured in Jak and Daxter: The Lost Frontier, Jak's recent game.